A couple FO's to show: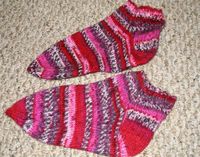 My first socks. They're seceretly pretty symmetrical size-wise, fraternal twins, color-wise. The stats: Moda Dea Sassy Stripes in Crush, Size 3 needles, pattern based on the Retro Anklets in Socks Socks Socks. I felt that the ankle part was going to be too long, so I shortened them. They only come up a few inches over the top of my clunky sneakers. I wore them to work last Monday, and though they were pretty comfortable, it's still too hot here to wear socks, even in my very air conditioned office.
My first dishcloth. Sugar N Cream cotton. Size 6 needles. Basic biased dishcloth pattern (CO 4 sts. 1st row: K4, each subsequent row until the midway point: K2, YO K to end. Decreasing rows, K1, K2tog, YO, K2tog, K to end. Repeat this line until you have 4 sts. Bind off. I really like how the colors pooled symmetrically. I don't think I could possibly have planned that. It worked well as a washcloth this morning. Was nice and nubby.