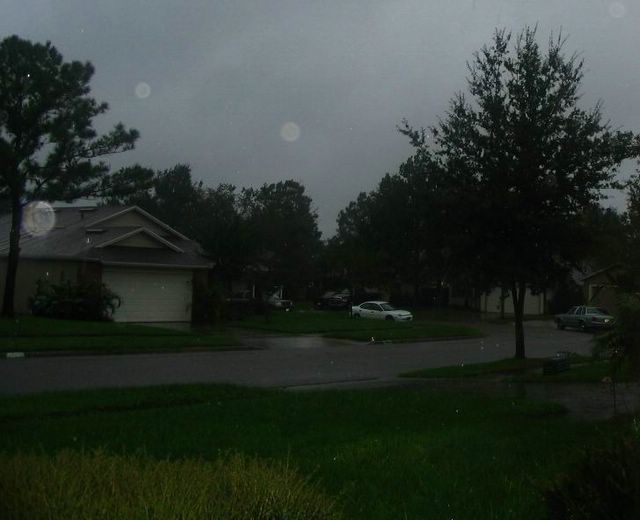 Wilma came through town today. DH went to work, MIL, LaLa, the Monkey and I stayed home. We didn't lose power, we weren't in the worst of the storm, and it really did pass through pretty quickly. After posting this, I'm going to check on my "blog neighbor"
FluffyKnitterDeb
. She is who you get if you hit "Prev" on my Southern Blogger's WebRing buttons.
For the Birds
is another blog neighbor. It's not a knitting blog, but she is on the Space Coast and has a nice blog going. At the shuttle launch this summer, she had the most amazing pictures of the shuttle as it was getting ready to go.
Back to our day with Wilma. It was pretty much a vegetable day. Lots of suckling at the glass teat until naptime. Then naptime. Then the storm was gone. So, a trip to Target to pick up some odds and ends and a round of coffee drinks. Why did I need 12 pictures for that?
The view out of my front door at about 10 this morning: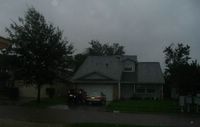 My project du jour was the socks for Aunt Marilyn. Here's how they were at about 10 this morning. Have I mentioned that Lala the sock model is going through a major "clothing optional" phase right now? At this point, I'm within a couple rows of binding off the first sock. I just needed to remember where I read about a stretchier bind off. I think it was in a sock article in the backissues of IK, in their online pattern section. But I'll let you guys know when I find it.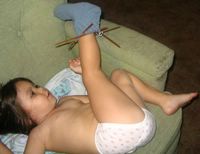 We gave the monkey a haircut this morning. I think it's pretty sharp, although, somehow I managed to leave in some long spots. Some of them add character, some of them make it look homemade.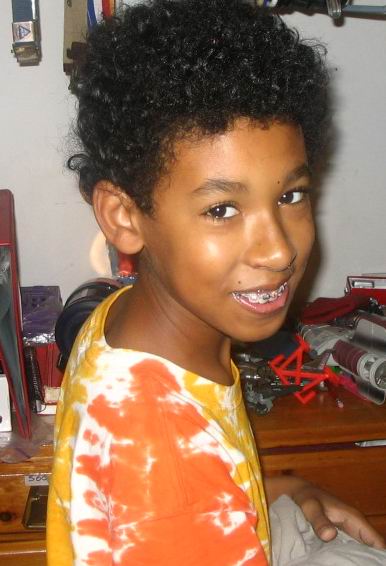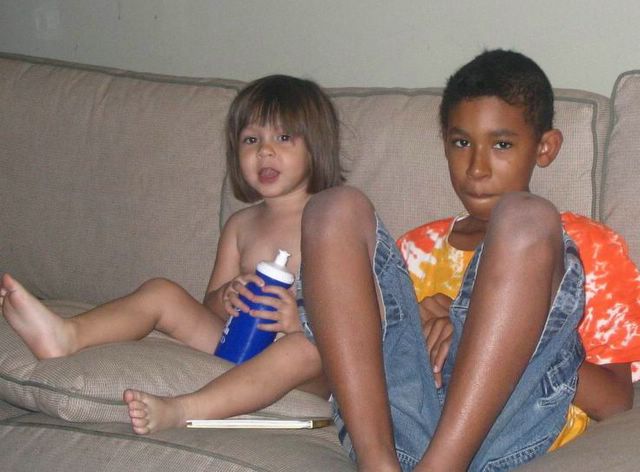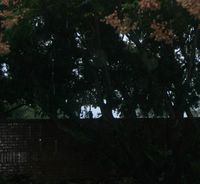 Here is the view out of the back yard. Wind and rain. Lots of it. This must have been around 11. The storm was out in the ocean by this time. We have powerlines that run through that tree. [OK. This layout is a little "artsier" than I intended it, but you get the idea.]
Sorry for this dark picture. Did I mention that it was dark and stormy? One of my concerns was would the fence hold up. It's pretty wavy and we're hoping to wait until after hurricane season to replace it. There was always such a waiting list last November/December. So many fences were knocked down with Charley-Frances-Jean.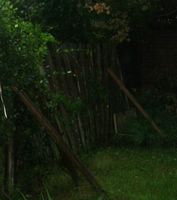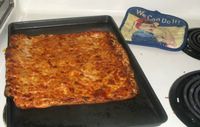 We had frozen pizza for lunch. A nice hot but slothy kind of lunch for a dreary but slothy day.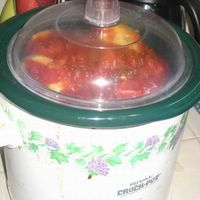 Worrying about DH driving in to work, I forgot to put this in. Got it in at lunchtime, set to high. I winged it, but I think it's my new favorite pot roast recipe: 1 good sized piece of meat (sirloin something), 4 potatoes peeled, cut into eighths, half a small bag of baby carrots, 1 can of golden mushroom soup, 1 can of no-salt-added diced tomatoes, a sprinkling of marjoram and a sprinkle of cajun seasoning. Was delightful. All it needed was a slice of bread and butter to sop up the juice. Mmm. Potroast.
The view from my backyard around 4 this afternoon. Notice the powerlines that run through the tree are still good and the fence is holding. What could be better?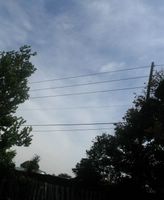 Storm's past, and it brought a lot of cool air with it.