LaLa informed me tonight that she wants to be a crab for Halloween next year. She's reached the age where the day to start thinking about your next costume is November 1. A blue crab. Not sure that it's a
blue crab
or if it's a crab that's blue. Up until dinner time, she's been talking about being a doctor. That was the original plan last year. I took her to the fabric store to get a scrubs pattern. We left with this.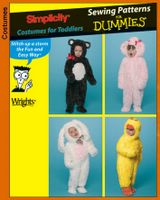 Some crazy furry material in blue and purple and a plan to make the bottom left view. We ended up with this.
Blues Clues. I'm a little concerned about next year.